Published on:
Sunday, October 28, 2018
Psychedelics and Witchcraft — The Truth About Hallucinogenic "Hexing Herbs"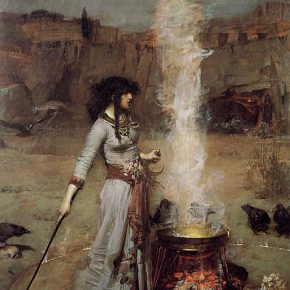 Were "hexing herbs" really used by witches in medieval times? Are they for healing, cursing, or consorting with the Devil? Learn all about the sordid history of Deadly Nightshade, Mandrake, and Henbane in today's post.
This text appeared in the original manuscript of Magic Medicine, my new book about the most fascinating psychedelics on the planet, but was cut for length. So this a sneak peek into the finished book, which covers 23 different plants, fungi, fish, and synthetic substances, from ayahuasca and 2C-B to "mad honey" and hallucinogenic sea sponges.
Origins and Background
Throughout human history, few plants have commanded as much respect – and fear – as the nightshades. Of the Solanaceae, a family of more than 2,700 distinct species including potatoes, tomatoes, chili peppers, and tobacco, a few particular plants stand out in botanical lore for their disturbing and powerful effects.
Continue reading Psychedelics and Witchcraft — The Truth About Hallucinogenic "Hexing Herbs" at Psychedelic Frontier.
Read Full Article